About Kevin Dohmen
Kevin's Mission: To enable people to experience the joy of learning, and of work, that results from developing a very high level of skill, and to lead by continually expanding the joy and skill in his own learning and work.
Kevin Dohmen is an independent learning consultant in private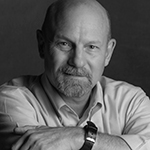 practice in the Washington DC Metropolitan Area since 1988 and has pioneered the development of ADHD coaching since before the term was coined. He works with children and adults with specific learning disabilities and attentional disorders, helping them to develop concrete, practical techniques for organization and for maximizing performance in school and in the workplace. He also tutors students of all ages in the following content areas: writing composition (including college application writing), English grammar, mathematics through first-term calculus, history, chemistry, and physics. In addition, he prepares students for the SAT and ACT exams, develops and delivers trainings for private industry and community agencies, designs and teaches writing seminars for business people, and conducts his unique Joy of Writing seminars for middle school, high school, and college students. See testimonials page.
Kevin began his career in 1981 as a language arts teacher for junior college students. Years later he taught math on the middle school and high school levels.
In 1987 he co-authored SOS, Strengthening of Skills, a two-part study skills curriculum for teachers working with students in grades five through nine and high school through college, distributed by Research for Better Schools. Reprinted through 2001.
Kevin earned his BA in Literature from MIU. His Master of Education degree is from the University of Virginia's Curry School of Education. He also completed his doctoral coursework in math education at the University of Virginia.
Kevin has always been a lover of learning and has a very wide range of general knowledge and work experience. Before embarking on his professional career, he worked as a first-aid instructor, emergency medical technician, hospital orderly, house painter, fast-food cook, furniture refinisher, carpenter's helper, construction laborer, auto parts salesperson, supermarket cashier, dishwasher, life guard, and summer camp counselor. He holds a second-degree black belt in the Korean martial art of hapkido. He is an amateur astronomer and has published several articles on astronomy. He has published on many other topics as well. See publications.
Affiliations:
Washington Independent Services for Educational Resources (WISER)
Learning Disabilities Association of America (LDA)
Children and Adults with Attention Deficit Hyperactivity Disorder (CHADD)
Kevin is also an award-winning photographer. See his photography at www.luminousview.net.
Recently on the Art of Learning Blog